UCWLC, Eparchy of Saskatoon- Outreach Ukraine Project Phase II:

Visit to Kyiv by Saskatchewan Eparchial UCWLC Representatives

with His Beatitude Patriarch Sviatoslav and the Greek Catholic Women of Ukraine
[photos by Sister Olexia Pohranechna (Погранична); video compiled by Teresa Bodnar-Hiebert]
UCWLC, Eparchy of Saskatoon – Outreach Ukraine Project Phase II – This has been an amazing and overwhelming journey to Kyiv. We met with the current members of The League of Greek Catholic Women of Ukraine along with Patriarch Sviatoslav to discuss the future possibilities of the League in Ukraine and how the UCWLC can help. We traveled to various parishes in the Archeparchy of Kyiv and met with the priests and their families. Their faith, dedication and love to our church is inspiring. The climax of this journey was on Saturday April 14th when approximately 80 enthusiastic ladies gathered for an informational meeting at the Patriarchal Cathedral of the Resurrection of Christ. Patriarch Sviatoslav's message to the ladies was one of encouragement and support for the need of this woman's organization in Ukraine.
– Marlene Bodnar Eparchy of Saskatoon/UCWLC President
Thank you to Sister Sophia!
See more photos at: https://www.facebook.com/KA.UGCC/post…
Find the League of Greek Catholic Women of Ukraine Facebook Page: https://www.facebook.com/Ліга-Греко-К… Eparchy of Saskatoon website: https://www.skeparchy.org/wordpress/
---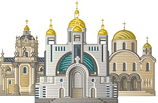 INFORMATION RESOURCE of Ukrainian Greek-Catholic Church
У Києві з Главою УГКЦ уперше разом зустрілися Ліга греко-католицьких жінок України та Ліга католицьких жінок Канади
Четвер, 12 квітня 2018, 09:52
У середу, 11 квітня, у Києві вперше відбулася офіційна тристороння зустріч Глави УГКЦ Блаженнішого Святослава з представницями Ліги греко-католицьких жінок України та Ліги католицьких жінок Канади. Захід провели у форматі «зустріч-знайомство» з метою розробки планів на майбутнє, а також з'ясування, як сторони бачать розвиток своєї продуктивної співпраці.
On Wednesday, April 11, the official tripartite meeting of the Head of the UGCC Blessed Sviatoslav with the representatives of the League of Greek Catholic Women of Ukraine and the League of Catholic Women of Canada took place for the first time in Kyiv. The event was held in the form of "meeting-acquaintance" in order to develop plans for the future, as well as finding out how the parties see the development of their productive cooperation.
Link to complete article in Ukrainian from  Information Resource of the Ukrainian Greek-Catholic Church:
Від – ІНФОРМАЦІЙНИЙ РЕСУРС Української Греко-Католицької Церкви»»
---