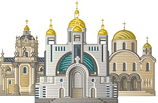 INFORMATION RESOURCE of Ukrainian Greek-Catholic Church
---
Catholics in best position to fight "fake news," says Ukrainian leader

Friday, 10 August 2018, 11:05
---
Head of Ukrainian Greek Catholic Church says war in Ukraine has global impact.
The war in eastern Ukraine is a forgotten war and a conflict in which "fake news" is a key weapon, the head of the Ukrainian Greek Catholic Church said on a visit to the United States this week. But the worldwide Catholic community has a special ability to discern the truth in the situation.
Speaking at the 136th annual convention of the Knights of Columbus, and in an interview with Aleteia, Major Archbishop Sviatoslav Shevchuk of Kyiv-Halych pleaded for support from the Catholic fraternal order and American society in the defense of his nation from Russian aggression.
In spite of a death toll that has exceeded 10,000 and the loss of 8 percent of Ukrainian territory, including the Crimean peninsula, much of the world's news media have turned their attention to other hotspots. And the widespread use of "disinformation" and economic attacks by Russia makes is a "hybrid war," he said.\