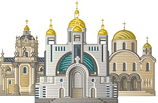 ---
Tuesday, 14 July 2020
---
Faith comes from hearing. The maturity of our personal faith in God depends on how deeply we can hear God's Word. This was emphasized by the Head of the UGCC in the ninth issue of the program His Beatitude Sviatoslav: #clearly_about_complicated.
Its topic this time was listening prayer.
According to the Primate of the UGCC, the teacher of the prayer of listening is the holy prophet Elijah, who was able to recognize the presence of God in a light breeze.  The prophet was able to feel the presence of God, to open his spiritual ear and observe, listen to how the Lord God would appear and speak to him.
One way to pray and listen for us, Christians, is to pray with the Scriptures.  His Beatitude Sviatoslav shared his thoughts on how to do it in the right way.  According to him, one should start reading the Holy Scriptures by remaining in silence.  Silence will help us enter into a personal relationship with the Lord God and be ready to listen to God, because the text of Scripture, as the Head of the Church noted, is "God's Word addressed to each of us personally at that moment, like a letter of love that only we can read,  have the right to open and can fully understand."
The selected passage of the Scripture should be read three times.  After each reading, you need to think about the meaning of the biblical words and ask yourself a few questions: What impressed me most about this passage?  What does God want to say to me through these words?  And how should I respond to God about what He has just said to me?  The culmination of the prayerful reading of the Word of God is the moment of contemplation, in which we try to feel, understand, Who is the God who speaks to me personally?
His Beatitude Sviatoslav also noted that at the end of the listening prayer we should ask ourselves how we will put into practice what we heard during the prayer.  "To listen also means to obey," the Patriarch said.
"Let's learn to hear God and to obey Him, like the Immaculate Virgin Mary once did," called the Head of the Church and added, "She can be for us a teacher of listening to God's Word, a teacher of bearing it in our hearts and a teacher of the embodiment of God's Word in our personal lives."
We remind you that the video project of "Zhyve Television" His Beatitude Sviatoslav: #clearly_about_complicated started May 16, 2020
YYou can watch the new issues of the catechesis of His Beatitude Sviatoslav on the Zhyve TV channel on YouTube or on the Zhyve TV Facebook page every Saturday at 9 p.m.
---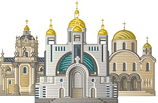 ---
Понеділок, 13 липня 2020
---
Віра приходить від слухання. Від того, наскільки глибоко ми вміємо слухати, чути Боже слово, залежить зрілість нашої особистої віри в Бога. На цьому наголосив Глава УГКЦ в дев'ятому випуску програми «Блаженніший Святослав: #доступно_про_важливе», темою якого була молитва слухання.
Вчителем молитви слухання, на думку Предстоятеля УГКЦ, є святий пророк Ілля, який зумів розпізнати присутність Бога у подуві легенького вітерця. Пророкові вдалося відчути присутність Бога завдяки тому, що він намагався відкрити своє духовне вухо і спостерігати, слухати, яким чином Господь Бог йому об'явиться і промовить.
Одним зі способів молитви слухання для нас, християн, є молитовне читання Святого Письма. Блаженніший Святослав поділився думками про те, як слід це робити правильно. За його словами, розпочинати читання Святого Письма потрібно із перебування в тиші. Тиша допоможе молільнику увійти в особистий стосунок з Господом Богом і бути готовим слухати Бога, адже текст Святого Письма, як зазначив Глава Церкви, – це «Боже слово, скероване в тій хвилині особисто до кожного з нас, як лист любові, який тільки ми маєте право відкрити і тільки ми можете його до кінця зрозуміти».
Прочитати вибраний уривок Божественного Писання слід тричі. Після кожного прочитання треба вдуматися у зміст біблійних слів і поставити собі декілька запитань: що мене найбільше вразило у цьому уривку? Що Бог хоче до мене промовити через ці слова? І як ми маємо Богові відповісти на сказане до нас? Кульмінаційним моментом молитовного читання слова Божого є момент споглядання, в якому молільник намагається відчути, зрозуміти, Ким є той Бог, Який до нього промовляє.
Блаженніший Святослав також зауважив, що на завершення молитви слухання слід запитати себе, як ми втілюватимемо в життя те, що почули під час молитви. «Слухати означає теж і слухатися», – зауважив Патріарх.
«Вчімося слухати! Вчімося слухати Бога і слухатися Його, тобто бути покірними у вірі почутому, прийнятому Божому слову так, як це свого часу зробила Пречиста Діва Марія, – закликав Глава Церкви і додав. – Вона може бути для нас учителькою слухання Божого слова, учителькою виношування його у своєму серці і учителькою втілення, воплочення Божого слова в нашому особистому житті».
Пригадуємо, що відеопроєкт «Живого телебачення» «Блаженніший Святослав: #доступно_про_важливе» стартував 16 травня 2020 року. У коротких відео Глава УГКЦ доступно пояснює важливі християнські істини. Серія перших випусків присвячена темі молитви, зокрема змістові та способу молитви. Дивитись нові випуски катехиз Блаженнішого Святослава можна на каналі «Живого ТБ» в YouTube або сторінці «Живого ТБ» у Facebook щосуботи о 21:00.