THAT THE ROMAN PONTIFF HAD CONFIRMED THE ELECTION OF THE SYNOD OF BISHOPS OF THE UKRAINIAN CATHOLIC CHURCH AND NOMINATED FR. MYKOLA BYCHOK AS THE BISHOP OF THE EPARCHY OF STS PETER AND PAUL OF MELBOURNE WHICH ENCOMPASSES THE WHOLE OF AUSTRALIA, NEW ZEALAND AND OCEANIA.
Fr. Mykola who joined the Redemptorist fathers as a young man first ministered in Prokopjevsky, had worked with youth and has undertaken a number of pastoral and administrative functions in his order as well as serving in Newark. This is a short interview that reflects on his service in Siberia and USA, about his reactions to being nominated a bishop and his first thoughts as to his priorities in serving in Australia and New Zealand.
What were your feelings on being informed of your appointment to Australia?
The election by the synod and the confirmation by the Holy Father was a great surprise. His Beatitude Svyatoslav informed me of the decision of the Synod and Holy Father and he began with the words "I bring you news of great joy? – do not be afraid". At first, I was speechless and could not even express with words what I was feeling. I had many questions; why me? What if I am unworthy? Can I take such a huge responsibility? To be honest, a great sense of fear deep in my heart. I asked for a number of days to think it over, and these were some of the hardest days of my life. I eventually agreed. Accepting this of our church in Australia, the knowledge that I dd not choose but was chosen, that it is the Lord that is sending me I have the Synod for the good of our church and our faithful. My inspiration came from the history of our congregation of Saint Alphonsus Liguori. On the 9th March 1762, when St. Alphonsus was 66 years old, a delegation from the Nuncio announced to him his appointment as the Bishop of St. Agatha di Gori in Italy. St. Alphonsus at first declined the appointment saying that he was too old and frail but when the delegation returned a second time with a personal request from Pope Clement XIII he replied with these words "God wants me to be a bishop, so I want to be a bishop".
As the youngest bishop in Australia, I have also been strengthened with the words of St. Paul to Timothy, the first bishop of Ephesus, who was around 40 at the time of his election. "Do not let anyone look down upon you because you are young but set an example to people in speech, in conduct, in love, in faith, in purity. Until I come, devote yourself to the public reading of Scripture, to preaching and to teaching". (1 Timothy 4, 12-13)
Now that the dust is beginning to settle on this announcement, I can more clearly express my feelings. I feel a gratitude to God, to people. I am grateful to the Redemptorists with whom I have lived most of my short life. This congregation has given me everything in good times and in difficult times. I thank the parish of St. John the Baptist, all the parishioners who have helped the community to grow spiritually and materially. I expressly thank my confrere and superior Fr. Taras Swirchuk. I also thank the Philadelphia Archeparchy where I have worked for the last 5 years, Metropolitans Stefan and Borys, the priests with whom I have served and the faithful whom I visited and got to know.
---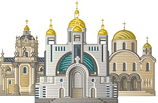 Середа, 15 січня 2020
---
15 січня стало відомо, що Римський Архиєрей підтвердив вибір Синоду Єпископів Української Греко-Католицької Церкви і номінував отця Миколу Бичка, ЧНІ, правлячим архиєреєм Мельбурнської єпархії Святого апостола Петра й Павла, яка охоплює всю Австралію, Нову Зеландію та Океанію.
Отець Микола, який приєднався до Чину Найсвятішого Ізбавителя ще молодим хлопцем і перший душпастирський досвід здобув у Прокоп'євську, працював з молоддю та займав різні адміністративні позиції в Згромадженні, зараз служить на українській парафії в Ньюарку. Коротка розмова про досвід душпастирювання в Сибірі та в Америці, про реакцію на новину про призначення і перші міркування щодо пріоритетів у служінні в Австралії та Новій Зеландії.
З якими почуттями Ви прийняли новину про Ваше призначення до Австралії?
Вибір нашого Синоду і Святішого Отця став для мене величезною несподіванкою. Блаженніший Святослав повідомив про рішення Синоду і Папи Франциска, почавши зі слів: "Звіщаю радісну новину: не бійся!" Спочатку я навіть слова не міг вимовити, настільки був заскочений. У мене було багато запитань: чому я? хіба я достойний? хіба можу взяти таку велику відповідальність? Скажу щиро, що навіть певний страх огорнув моє серце. Я попросив кілька днів на роздуми, і це були одні з найважчих днів у моєму житті. І зрештою погодився. Приймаючи рішення, я керувався перш за все молитвою, потребами Церкви в Австралії, усвідомленням того, що це не я вибрав, а мене вибрали, що це Господь через Синод посилає мене, для добра нашої Церкви і наших вірних. Натхненням для мене стала історія засновника нашого Згромадження святого Альфонса Ліґуорі. 9 березня 1762 року, коли святому Альфонсові було 66 років, делегація від нунція проголосила йому новину про обрання його єпископом єпархії святої Агати в Готі, Італія. Святий Альфонс спочатку відмовився, вважаючи, що надто старий і немічний, але коли посланці від нунція прийшли вдруге з особистим проханням від папи Климентія ХІІІ, погодився зі словами: "Бог хоче, щоб я став єпископом, тому і я хочу бути єпископом". Також великою підтримкою для мене, з огляду на те, що я буду наймолодшим єпископом австралійського єпископату, стали слова Апостола Павла, звернені до Тимотея, першого єпископа Ефесу, якому за переданням було трохи більше 40 років: «Хай ніхто не зневажає твого молодого віку, але будь прикладом для вірних – словом, життям, любов'ю, вірою та чистотою. Поки прийду, приділяй увагу читанню, розраді та навчанню» (1 Тимотея 4, 12-13)
Тепер, коли порох новини потрохи осідає, можу краще розібратися зі своїми почуттями. Я відчуваю вдячність: Богові і людям. Вдячний Редемптористам, з якими прожив більшу половину свого, хоч і недовгого, життя. Це спільнота, яка мені дала все, спільнота, з якою я йшов у хвилинах радості і печалі. Дякую парафії Івана Хрестителя, усім парафіянам, які допомагали громаді зростати духовно і матеріально. Безмежно дякую моєму співбрату і настоятелеві нашого храму в Ньюарку о. Тарасові Свірчуку. Дякую також Філадельфійській архиєпархії, де я працюю останніх п'ять років — митрополитам Стефанові і Борисові, священникам, з якими я служив, та вірним, яких відвідував і з якими познайомився.