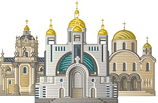 INFORMATION RESOURCEof Ukrainian Greek-Catholic Church
---
The Head of the UGCC ordained Mykola Bychok a new bishop for Australia, New Zealand, and Oceania on the Feast of Pentecost
Sunday, 07 June 2020
---
On Pentecost, Father and Head of the Ukrainian Greek Catholic Church His Beatitude Sviatoslav performed the ordination of the ruling bishop for the Eparchy of the Holy Apostles Peter and Paul in Melbourne (Australia) Mykola Bychok for Ukrainians in Australia, New Zealand, and other countries of Oceania.
During the sermon to the faithful, the Primate noted the importance of the Feast of the Descent of the Holy Spirit.  "Today the Church of Christ," said the preacher, "celebrates one of our greatest holidays.  In fact, the Church is celebrating its birth today."
Our Savior Jesus Christ taught His apostles about this day. There is no spiritual life, the Archbishop emphasized, without the presence of the power and action of the Holy Spirit.
St. Hilary taught that the Holy Spirit is the spark of life, it gives new life, optimism, new energy to each and every one who opens his heart to that strange guest of the human soul. Man cannot be himself without the Holy Spirit. "The Holy Spirit is the light that enables us to understand and see the beauty of the world in which we live.  A person has no taste of life if the Holy Spirit does not rest in him," observed the Head of the Church.
This Pentecost is special to our Church.  According to His Beatitude Sviatoslav, today, with the Descent of the Holy Spirit and the power of grace, the beauty of the Ukrainian Greek Catholic Church is manifested in a special way.
Read more»»The UGCC Department for Information»»
---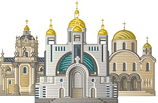 ---
Глава УГКЦ у cвято Трійці висвятив нового єпископа для Австралії, Нової Зеландії та країн Океанії Миколу Бичка
---
Отець і Глава Української Греко-Католицької Церкви Блаженніший Святослав у свято П'ятдесятниці здійснив Чин архиєрейської хіротонії правлячого єпископа єпархії Святих апостолів Петра і Павла в Мельбурні (Австралія) Миколи Бичка для українців Австралії, Нової Зеландії, та країн Океанії.
Під час проповіді до вірних Предстоятель відзначив важливість свята Зішестя Святого Духа. «Сьогодні Христова Церква, – сказав проповідник, – святкує одне з найбільших наших свят. Властиво, Церква святкує свій день народження. Ми вітаємо нині голосом серця нашої молитви між нами, дякуємо нашому Триєдиному Богові за прихід до нас Святого і Животворного Духа. Сьогодні ми святкуємо день П'ятдесятниці».
Про цей день повчав своїх апостолів наш Спаситель Ісус Христос. «Сьогодні все сотворіння, зокрема людину, сповнює присутність Третьої Особи Пресвятої Тройці – Святого Духа, який оживлює, надає сили, надає нового обличчя, чинить нове створення з усім тим, що свого часу привів Господь від небуття до буття», – розповів Блаженніший Святослав.
Немає духовного життя, наголошує архиєрей, немає повноцінного повнокровного життя людини без присутності сили і діяння Святого Духа. Немає святості, яка б не була виявом присутності, зокрема в людині, того єдиного Святого, яким є наш Триєдиний Бог.