---
UGCC: Everyone who loves will live! His Beatitude Sviatoslav about faith, prayer, and responsibility
Tuesday, 28 May 2019
---
On June 8, the Kyiv Palace of Sports will host the National Day of Prayer. The press center of the event recorded a conversation with His Beatitude Sviatoslav, Head of the UGCC. We talked about the personal responsibility of Ukrainians, what will cure us, teach us to be mindful of one another.
– You, as the Head of the Ukrainian Greek Catholic Church, have a lot of responsibilities. What is a prayer for you? Is it a daily duty of the bishop?
The meaning of our Christianity is life in love. For whoever loves, he lives. Who does not love, he already died. When we pray, we experience and express our love for God and neighbor. The peak of prayer is to express love for Him.
God always surprises me! He surpasses what I ask. Sometimes I say: "Be very careful with what you ask, because you will get everything you ask, but much more than you expect!"
---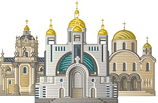 «Хто любить, той живе!» – Блаженніший Святослав про віру, молитву, відповідальність…
---
8 червня у Київському палаці спорту відбудеться Національний день молитви. Пресцентр заходу записав розмову із Блаженнішим Святославом, Главою УГКЦ. Говорили про особисту відповідальність українців, про те, що нас вилікує, навчить поважати одне одного та бути вдячними.
– У вас, як у Глави Української Греко-Католицької Церкви, чимало обов'язків. Чим для вас є молитва? Це – щоденний обов'язок єпископа?
Змістом нашого християнства є життя в любові. Бо, хто любить, той живе. Хто не любить, той уже помер. Коли ми молимося, то переживаємо і висловлюємо свою любов до Бога і до ближнього. Вершина молитви – висловити любов до Нього.
Бог завжди мене дивує! Він перевершує те, про що я прошу. Часом я кажу: «Будь дуже обережним з тим, про що просиш, тому що отримаєш усе, що просиш, але набагато більше, ніж сподіваєшся!»