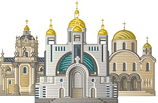 INFORMATION RESOURCE of Ukrainian Greek-Catholic Church
---
Keynote address of His Beatitude Sviatoslav (Shevchuk) at the States Dinner of the Knights of Columbus
Wednesday, 08 August 2018, 20:39
---
The Knights of Columbus in the twenty-first century are called to continue to be the Knights of Charity, as was the vision of venerable Fr. Michael McGivney. But they were also called to be the Knights who watch over and defend the truth. Our world, often called a "post-truth" world, desperately needs our active involvement in the defense of truth. The mission of a Knight today is to be "the light of the world" following the footsteps of our Savior Jesus Christ who said: "Then you will know the truth, and the truth will set you free" (John 8:32).
KEYNOTE ADDRESS
OF HIS BEATITUDE SVIATOSLAV (SHEVCHUK)
MAJOR ARCHBISHOP OF KYIV-HALYCH
AT THE STATES DINNER OF THE KNIGHTS OF COLUMBUS
Baltimore, MD, August 7, 2018
Your Eminences,
Your Excellences,
Worthy Supreme Knight Carl and Mrs. Dorian Anderson
Dear Brother Knights,
Dear Brothers and Sisters in Christ!
Slava Isusu Xrystu! – Glory be to Jesus Christ!
There is a book by an Italian author titled Siamo le persone che incontriamo which means: "We are the people whom we meet." Indeed, many encounters in our lives profoundly contribute to who we are. In fact, the history of Christianity began from an encounter of the Master with His disciples two thousand years ago in Galilee. Whether we are aware of it or not – encounters are a fundamental part of our lives, and our existence is a repeated set of encounters.
Let me share with you a story about one such encounter. It happened almost exactly seven years ago, in November 2011, right here in Baltimore after my meeting with the United States Conference of Catholic Bishops' Assembly. It was my great honor and a unique opportunity, as the newly elected Head of the Ukrainian Greek Catholic Church (imagine, I was just forty-one at that time!), to address my dear Brothers in episcopal ministry, on behalf of the largest Eastern Catholic Church. After I delivered my address, and received kind words of gratitude from Cardinal Timothy Dolan, only a very few people know what happened afterwards… I was approached by a Ukrainian American man who said that an important person was seeking a brief meeting with me. Knowing about the importance of encounters, I gladly accepted this invitation. I entered a large, dimly lit banquet hall (which apparently was being prepared for a reception), hotel personnel were busy setting up chairs, and nothing indicated that this would be a historic meeting with an important outcome. When I entered the room, I was introduced to a well-respected Catholic gentleman who told me that he was heading the largest Catholic fraternal organization in the world. And this man happens to be sitting alongside me here today. Mr. Anderson, in the manner of a polite Catholic gentleman, asked me one simple question: "Your Beatitude, your predecessor Cardinal Lubomyr Husar at our Convention in Chicago in 2005 invited the Knights of Columbus to establish our Order in Ukraine. Would you give the 'green light' to such an idea?" "Yes, definitely! – I replied – We would be very excited to have the Knights of Columbus established in Ukraine and assist our men to become more actively involved in the life of the Church."