---
UGCC: The Annunciation Occupies a Significant Place in our Church – His Beatitude Sviatoslav on the 10th Anniversary of his Ordination to the Episcopate
Monday, 08 April 2019
---
On this bright Feast of the Annunciation, our Christian love and sons' feelings of gratitude and respect are revealed to the Father and Head of Our Church, His Beatitude Sviatoslav, who, 10 years ago, at the St. Yura Cathedral in Lviv, accepted the fullness of Christ's priesthood through the episcopal ordination," said Bishop Bohdan Dziurakh, Secretary of the Synod of Bishops of the UGCC, in his sermon to the faithful during the Hierarchical Divine Liturgy at the Patriarchal Cathedral of the Resurrection of Christ in Kyiv.
On Sunday, April 7, 2019, the clergy and laity of the UGCC, gathered together on the occasion of the Feast of the Annunciation of the Blessed Virgin Mary, had the opportunity to thank God for ten years of the bishop's service of His Beatitude Sviatoslav.
"His Beatitude Sviatoslav traveled overseas to far-flung Argentina to serve our faithful there, but he didn't stay there for a long time," added the preacher. – "He returned to his native land to receive here on his arms the cross of spiritual guidance of the multi-millionth Greek-Catholic community in Ukraine and in the world. Your Beatitude, now your spiritual children around the world unite with you in grateful prayer for the gift of your personality for our Church, for the Ukrainian people," said Bishop Bohdan Dziurakh.
---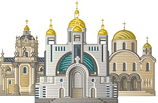 «Подія Благовіщення посідає вагоме місце у нашій Церкві», — Блаженніший Святослав у день десятиліття своєї хіротонії
Неділя, 07 квітня 2019, 19:41
---
«У це світле свято Благовіщення наша християнська любов та синівські почуття вдячності й пошани проявляються до Отця і Глави нашої Церкви Блаженнішого Святослава, який саме 10 років тому в архикатедральному соборі Святого Юра у Львові прийняв повноту Христового священства через єпископську хіротонію», — сказав владика Богдан Дзюрах, Секретар Синоду Єпископів УГКЦ, у своїй проповіді до вірних під час Архиєрейської Божественної Літургії у Патріаршому соборі Воскресіння Христового у Києві.