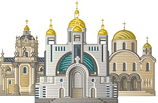 INFORMATION RESOURCE of Ukrainian Greek-Catholic Church
---
Friday, 02 October 2020, 13:53
---
The Forum will be opened by His Beatitude Sviatoslav Shevchuk, Head and Father of the Ukrainian Greek Catholic Church. Among the leading themes of the event are acts of mercy, including "Feeding the Hungry". The Forum is organized by the Department of Social Ministry of the UGCC and ICF "Caritas Ukraine".
The event will start at 10:00 and last until 13:00. The broadcast will be held from Kyiv, and the participants gathered in their dioceses will be connected by a teleconference via the Internet. The Forum will present not only Ukrainian but also international experience in serving to the people in need. In particular, representatives of Caritas of the Archdiocese of Vienna (Austria) will share their experience in the network of parish Caritas.
Also during the Forum will be analyze the achievements and challenges in the implementation of the Strategy of Social Service, which was approved by the Synod of Bishops in 2016.
An open preview of the event will be available on YouTube.