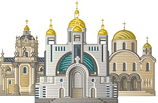 INFORMATION RESOURCE of Ukrainian Greek-Catholic Church
---
Today, Ukraine is struggling for freedom, independence, genuine democracy and against all that comes from Russia. If we use infantile slogans, like we will change everything at once, and if we do this with violence, we will destroy the very idea of a democratic Ukraine. Such actions play right into the hands of our enemy, who will not have to use aggression, because we will destroy Ukraine with our own hands.
Such a position was expressed by the Father and Head of the Ukrainian Greek Catholic Church His Beatitude Sviatoslav in an interview with the Polish Catholic Information Agency.
The Primate reminded that in early 2019 presidential elections will take place, and in the second half – parliamentary ones. In his opinion, the political struggle is already under way. Unfortunately, we can already see the great risks that arise for the existence of the Ukrainian State.
READ FULL ARTICLE at: http://news.ugcc.ua/en/»»