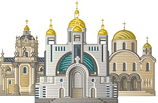 INFORMATION RESOURCE of Ukrainian Greek-Catholic Church
---
Monday, 11 June 2018,12:21
There are very few laymen and pastors who are ready to accompany the young person. After all, we can write a lot of texts, think out a strategy, but take responsibility for somebody else, stand next and come along with her all her life – is really difficult.
This was emphasized by the Father and Head of the UGCC His Beatitude Sviatoslav on Saturday, June 9, during a meeting of the heads of youth commissions of the Roman and Greek Catholic Churches and youth leaders within the framework of the First All-Ukrainian Forum of Youth and Pastoral Leaders of the Catholic Church in Lviv.
"I want to thank you for the fact that such a forum is currently taking place. I think it is incredibly important that it is conducted in conjunction with the RCC, that we are trying to be and think together. I hope we will work together. I came to this meeting not only to speak, but to listen. We know that this year the Catholic Church is preparing for the Synod of Bishops and trying to listen to the youth," said the UGCC Primate, who said that he always tries to meet with the youth and hear them.
READ FULL ARTICLE at: http://news.ugcc.ua/en/»»